Brown Moves Forward With Ballot Measure Despite Lawsuit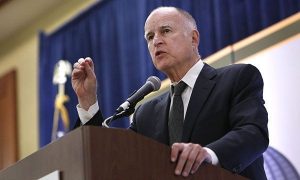 Governor Jerry Brown

View Photos
Sacramento, CA — Governor Jerry Brown is continuing with his efforts to place a measure on the November ballot dealing with criminal sentencing.
The Associated Press reports that the Governor's campaign submitted the needed 585,000-plus valid signatures to election officials earlier today. The proposal would increase sentencing credits to offenders as a way to potentially decrease the prison population.
However, the ballot measure could be derailed by a lawsuit. The Governor combined his proposal with an existing measure that was already going through the official review process. An association of California district attorneys filed a lawsuit arguing that Brown's measure needs to go back to the start line and begin from scratch. The California Supreme Court is reviewing the matter and the Governor is awaiting its decision.