High-speed Chase Suspect Caught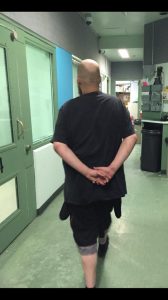 High-speed chase suspect Wyatt Nunes caught

View Photos
Sonora, CA – Tuolumne County Sheriff's officials report that tips from the public helped them apprehend a Sonora man wanted for evading deputies.
24-year-old Wyatt Nunes was captured Wednesday at 12:30 p.m. without incident. Sgt. Andrea Benson reports a couple of hours before that detectives got a tip that Nunes might be near his parents' home on Nile River Drive near Middle Camp and Longeway roads.  Deputies scoured the area and Sgt. Benson reports, "They located his vehicle in a meadow near a tent where he was staying off of Nile River Drive. He was standing at his vehicle and given commands to show his hands and turn around for the deputies to be taken into custody."
Nunes has been on the run since early Monday morning when a call came into the department regarding a suspicious truck parked in the Willow Springs subdivision.  As previously reported, when deputies responded they saw a truck driven by Nunes speeding out of the area, according to investigators. Nunes then led deputies on a 25 minute high-speed chase winding through Middle Camp Road up to Twain Harte where he ditched the pickup near a dirt road and escaped on foot.
Nunes was arrested for a felony evading warrant and a misdemeanor failure to appear warrant on drug paraphernalia. He now faces an additional charge of felony evading for this recent incident. He remains behind bars on a $60,000 bail.