Forest Service: Dangerous Waters Expected Over Next Couple Weeks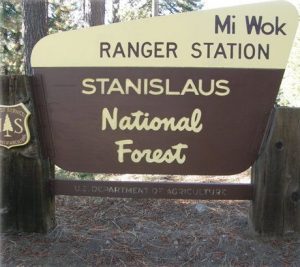 Mi-Wok Ranger Station - Stanislaus National Forest

View Photos
Sonora, CA — Following a death at Candy Rock in the Calaveras Ranger District over the weekend, the Forest Service is urging outdoor enthusiasts to use extra caution during the current period of high snowmelt.
We reported yesterday on the unfortunate death of a 25-year-old unidentified Murphys man who presumably slipped on a rock, went down an embankment, and ended up in water. Forest Service Spokesperson Rebecca Garcia notes that popular areas like Candy Rock, Rainbow Pool and Cleo's Bath are seeing a recent spike in interest. She adds, "When recreating on the Forest we have a lot of snowmelt right now, it's that time of year, so water levels can vary rapidly. If you are going to go diving off a rock on Monday it might be fine, but on Tuesday it might not be fine. People die every year out in the Sierras from fall accidents, drowning and other injuries."
While the level of concern is heightened over the next couple of weeks, it is important to always use caution when recreating. Garcia adds, "The Forest, though beautiful, can be extremely dangerous. It is not an amusement park and doesn't come with handrails."
Garcia says that it is recommended to check in with the local ranger district offices, especially over the next couple of weeks, to find the latest information on conditions before heading to your destination.