Calaveras To Recognize New Sheriff, Re-address Cannabis Urgency Ordinance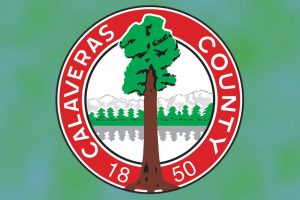 Calaveras County Seal

View Photos
San Andreas, CA – The Calaveras supes are in for a long session Tuesday, given a packed morning agenda, followed by a "Frog Jump" lunch break and an afternoon centered on solving the county's cannabis cultivation dilemma.
At the top of the regular agenda, the Calaveras County Board of Supervisors will memorialize their appointment of Calaveras County Sheriff's Office Sgt. Rick DiBasilio to the post of Sheriff, retroactive to May 2, via an official proclamation. As previously reported here, the board, last week, following a full day's worth of public interviews, chose DiBasilio out of a field of five contenders seeking to replace the late Sheriff Gary Kuntz. The Sheriff's sudden death last fall shortly into his second elected term made it necessary, under state law, for the board to name a qualified successor to fill the position through the end of 2018.
After a lunchtime interlude what will feature a frog jump demonstration in honor of next week's County Fair and Frog Jump Jubilee, the supervisors will devote an afternoon session to re-addressing efforts to enact an urgency ordinance relating to medical cannabis cultivation. As previously reported here, the board has continued to struggle over a widely perceived need to rein in a recent land rush of real estate buyers hoping to establish marijuana cultivation operations within the county's jurisdiction. If the board is able to pass this latest ordinance — and a four-fifths vote is required to do that — it would go immediately into effect.
Clamp Down On Cultivation  
The latest version under consideration would freeze allowable cannabis cultivation in the county to the status quo prior to May 10, 2016. It expressly prohibits all additional cannabis cultivation as an environmental protection against evidence of unchecked cannabis-related land use speculation until an impact report (EIR) can be completed.
The ordinance contains a declared nuisance clause, which states that, other than medical cannabis cultivation on a site registered for that purpose, all cultivation of marijuana or medical cannabis — in any amount or quantity — including any medical cannabis nursery, would be declared unlawful in all zones and subject to abatement and enforcement. Specifically excluded are lawfully permitted operating dispensaries.
As drafted, enforcement officials would be permitted to conduct summary abatement of unlawful grows under certain circumstances.; pre-issuance of warnings ahead of enforcement actions against offenders would not be required. For the full urgency ordinance text, click here.
In Other Business
Among other regular agenda items scheduled to be heard in the morning is a proposal for an 18-hole disc golf course at Alex Quinoes Community Park, submitted for board approval by the San Andreas Recreation and Park District (SARPD). According to the meeting documents, the district's plans are to develop the course in four phases and include provisions to meet Americans with Disabilities Act (ADA) requirements. Since the district leases the park from the county, the supervisors will also have to give the nod for a lease amendment that includes disc golf as a recreational use there.
The supervisors will also consider authorizing District Attorney Barbara Yook to apply for a two-year Victim Services XC grant of over $170,000 to provide for underserved victims, such as next of kin in homicide cases and children in high exposure/risk cases. The grant opportunity requires a local match of almost $43,000. If approved, Yook's office outlines that it would cover a designated victim witness advocate and meaningful expansion of services to these target populations.
Under proclamations the board will officially recognize the Calaveras County Fair and Jumping Frog Jubilee May 19 through 22 as the county's signature event. It will also declare May Poppy Month, acknowledging the time of year during which American Legion Auxiliary volunteers may distribute red crepe-paper "poppies" while collecting donations to help assist disabled vets and their families.
Following an 8 a.m. closed session, the meeting will open to the public in the government center's supervisors chambers (891 Mountain Ranch Road).