Candidates Emerge For Calaveras Sheriff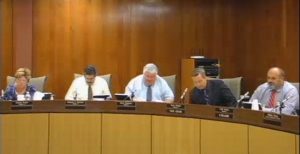 Calaveras County Supervisors, May 2, 2016 Sheriff's Interview Session

View Photos
San Andreas, CA – Today, as they continue to host public interviews ahead of appointing a new Calaveras County Sheriff, it is turning out to be a long day indeed, for the supervisors.
The board is seeking to fill the position, which has been vacant since the untimely death by heart attack of Sheriff Gary Kuntz last fall. While in the meantime, Captain Jim Macedo has been covering the post, the supervisors by law must make a timely appointment instead of waiting for the next sheriff's race, which comes during the 2018 general election. As previously reported here, the board chose a process that would include a vetting committee of law enforcement officials followed by interviews of the top finalists during a public session. The stated requirements for applicants included that they be current residents of Calaveras County.
This morning, the more than hour-long interviews began shortly after 9 in the supervisors chambers at the government center as the board heard from finalist Gary Redman, a member of the Amador County Sheriff's Office and military veteran. According to the supervisors, a list of 20 questions was generated with prior input from the public and each of the finalists would be asked the same questions in the same order. Redman, through a blind draw, was chosen to be interviewed first.
Pat Garrahan, retired from the Oakland Police Department and a former Marine, was second at the podium. Garrahan challenged Sheriff Kuntz in Kuntz's successful bid for reelection in 2014. Larry Blaine Smith, a former Calaveras County deputy, followed, after which the supervisors broke for lunch. The final two candidates, Gary Stevens of the Amador County Sheriff's Office and Calaveras County Sheriff's Office Sgt. Rick DiBasilio were slated for afternoon interviews, after which the supervisors will hear public comments and endorsements. They plan to name the new Sheriff through issuing an official proclamation on May 10.
In other news, the supervisors issued an agenda notice Monday morning, noting a temporary hold on their plans to consider an urgency ordinance for medical cannabis cultivation, due to failure to meet the deadline, under the Brown Act, for posting the documents. At their special session scheduled for tomorrow morning at 9, they will instead adjourn for a closed discussion relating to building department personnel.