FEMA Homes Still Aiding Butte Fire Survivors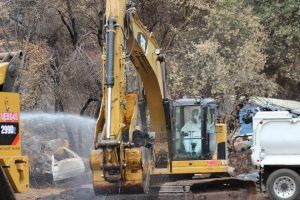 Butte Fire Recovery Debris Removal

View Photos
San Andreas, CA — As the debris removal program wraps up on the burn scar some continue to call FEMA's temporary housing units home.  Calaveras County Government spokesperson Sharon Torrence updates, "Currently there are 30 modular home units that FEMA supplied, 13 are on private properties and 17 are on group sites, such as a mobile home park, or there is an area in San Andreas where the homes were placed." She adds originally more houses had been approved by FEMA but in the process of getting those units some residents were able to find alternative living arrangements. As previously reported, a delay in getting those homes had prompted television news reports blaming a "county backlog," which county officials denied. Torrence indicates that the homes will be available for 18 month, which will be until February of next year.
In addition, Torrence notes that the debris removal is 99 percent complete, with 838 properties cleared out of 849.  Three crews continue to work on 11 properties that are taking more time due to accessibility challenges including a bridge being out, according to Torrence, who indicates a full wrap up on or around May 1. With regards to soil sample test results, 819 have been cleared along with 801 erosion control issues and 795 properties have been approved for building.
No more debris removal enrollments are being accepted.