Tuolumne Supes OK Seeking Infrastructure Funds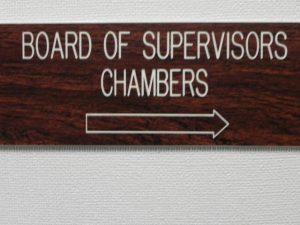 Tuolumne County Board of Supervisors Sign

View Photos
Sonora, CA – Tuesday, with some dissent, the Tuolumne supervisors greenlighted a staff request to seek federal funds for bridge and crossing replacements.
At Tuesday's Tuolumne County Board of Supervisors meeting, staff recommended that the board approve plans to prepare and submit applications for federal funds under the Highway Bridge Program (HBP) what would effectively pay for rehabilitating or replacing six bridges and four low-water crossings rated by Caltrans as structurally deficient or functionally obsolete.
As previously reported here, three of the bridges are located along Italian Bar Road; the others are along Old Strawberry and Cedar Springs roads and Columbia Way. The low water crossings are along Red Hills and Marshes Flat roads.
Although the Federal Highway Administration (FHWA) administers the Highway Bridge Program (HBP), Caltrans, which handles much of the responsibility at the state level, inspects and rates local bridges every two years, providing the necessary basis to identify the structures that qualify for the grant monies.
Some Opportunities Disappearing  
Even though the structures identified to the supervisors are currently eligible, Tuolumne County Resources Agency Supervising Engineer Tanya Allen added urgency to the application timing, stating that program changes coming in the fall will render some of them ineligible. The county last applied for HBP in 2013, according to Allen. She also pointed out that, if approved by FHWA, the scope would be scheduled and budgeted in future years as county capital projects. Allen also maintained that, save for the Soulsbyville Road Bridge, which will require an 11.4% local match the other structures would qualify for 100 percent funding.
While discussion among the supervisors took only a few minutes, District 3 Supervisor Evan Royce was quick to come out against making improvements in the Red Hills area. He lamented, "It is a really nice area…the trails and everything that they have out there…I would prefer just to leave those [structural projects] out – I don't think we need it for any special reason."
When Royce asked the other board members for any enlightenment they might offer, District 4 Supervisor John Gray immediately jumped in. "From the public safety standpoint it really needs to be done. I do not know any other place that has as rough a crossing that I take regularly than the Red Hills Road — and I know that it is by choice — but still we can improve it." District 2 Supervisor Randy Hanvelt echoed Gray's comment, adding that the improvements can be made unobtrusively without making the crossings "super highways."
In the end, the supervisors voted 3-1-1 with Royce dissenting and District 5 Supervisor and Board Chair Karl Rodefer abstaining.