SRMC Healers Become 'Habitat' Builders For A Day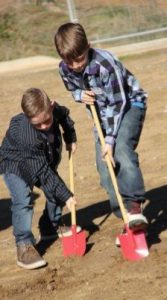 Habitat For Humanity 2016, Kids help 'break ground' on their new home at Parrotts Ferry Village

View Photos
Columbia, CA – Even though it may sound like a bit of an April Fool's Day spoof, 100 volunteers from Sonora Regional Medical Center (SRMC) will on Friday trade their  X-ray machines and stethoscopes for builders' tools.
Habitat for Humanity of Tuolumne County (HFHTC) spokesperson Betsy Harden reports that its Parrotts Ferry Village build site will be buzzing as the volunteer crew puts in a full work day in support of the four-unit project now underway that will become homes for local deserving families. As previously reported here, HFHTC anticipates completing this phase of construction by year's end and continuing the current pace to finish the subdivision's 24 remaining units, four-per-year.
According to HFHTC officials, SRMC President and CEO Andrew Jahn approached them earlier this year to reserve a day, which requires a $10,000 donation. On Friday Jahn will bring the check and his full "work crew" in tow.
Clearly enthused at the prospect, Jahn remarks that HFHTC is doing an "amazing" job in the local community by helping meet an unmet housing need for underserved residents. Case in point, he states, "We have employees who have benefited from Habitat For Humanity's ministry in this community. We see the tremendous impact they are making and we are really excited at being able to provide volunteer and service hours to help finish the four-build project they have going on this year."
HFHTC staff members plan to spend the day sharing about their work as they teach the clinicians some new skills in building. For Jahn, he says, "This is an opportunity for me to watch, firsthand…the entire leadership team from the hospital — all our directors and managers – give a day of their time. I get to watch them on a daily basis use their skill to heal. This is an opportunity to watch their spirit to care."