Fire Fee Exemption For Butte Fire Survivors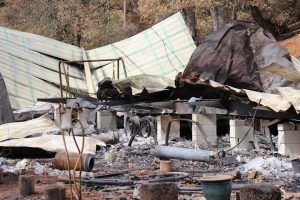 Butte Fire Recovery Debris Removal

View Photos
Calaveras County, CA — Property owners in the Butte Fire burn scar may soon be receiving a Fire Prevention Fee bill in the mail, but may not have to pay if they qualify for an exemption.
Calaveras County officials want to remind property owners within the State Responsibility Area that the $150 fee could be waived for those who lost a home in the devastating flames.  This round of the annual fire fee applies to anyone who had a "habitable structure" on their property as of July 1, 2015, according to county officials.  All the landowner has to do is fill out and file a Natural Disaster Exemption form with the state.  (Click here for the form.)  Those with additional questions can call the Calaveras County Assessor's Office at (209)754-6356.
As previously reported, the Fire Prevention Fee bills started being mailed out at the beginning of the month with the final invoices going out to Yuba County by June 13.