Senator Berryhill Tree Mortality Overview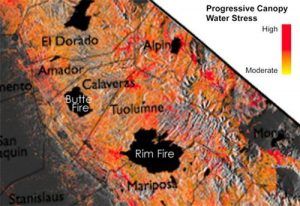 Progressive forest canopy water stress

View Photos
District 8 Republican Senator Tom Berryhill reports on how the continuing problem of removing dead and dying trees is being addressed, providing an update on what he and government programs are currently doing. Berryhill's region encompasses much of the Sierra Nevada, including all of Tuolumne and Calaveras counties.
In Berryhill's newest blog he sites a Carnegie Institution for Science study released December 28, 2016, which determined that as many as 58 million trees statewide have experienced severe canopy water loss between 2011 and today, due to the state's historic drought. As seen in the image the highest stressed areas are in red covering the majority of Tuolumne and Calaveras counties. The study, published in Proceedings of the National Academy of Sciences here, provides an overview map of trees that are drought stressed and assists in predicting which trees are at greatest risk for death and fire using laser-guided imaging spectroscopy tools mounted on the Carnegie Airborne Observatory. As reported here local surveys are just beginning.
Berryhill says, "the number of dead and dying trees far exceeds the capacity of the limited number of mills and biomass plants currently operating. The governor called for expedited action to ensure ongoing operation of forest bioenergy facilities in high fire hazard zones in his Emergency Proclamation on Tree Mortality, yet seven biomass plants have contracts set to expire within the next 2-7 months. Another 13 are sitting idle."
For other updates and details on Tree Mortality Resources for Homeowners view Berryhill's blog here.