Recent Wet Weather System A "Mixed Bag"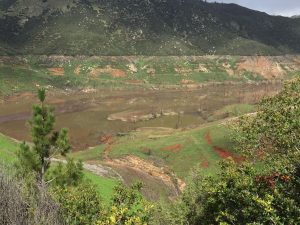 Heavy Rain Helps Fill New Melones

View Photos
Sonora, CA — The precipitation over the past week helped fill California's reservoirs, but did little when it comes to the snowpack.
"The storms that recently came through were fairly warm and the snow level was only up at around 7,000 ft," says Doug Carlson, spokesperson with the California Department of Resources. "As of today's date, the snow water content in the statewide snowpack is only 83% of what it should be on a normal March 9th. It's a mixed bag, and we are still playing that "waiting game" to see what happens."
On March 1st, prior to the recent storms, the snowpack average was also hovering at around 83% for the date. The snowpack serves as a reservoir of sorts, storing water in the Sierra Nevada until it runs off in the spring.
That said, local reservoirs such as New Melones and Don Pedro received a nice bump from the rainfall over the past week. On March 1st, New Melones was at 19% of capacity and 31% of the historical average. As of today it is 21% of capacity and 34% of the historical average. Don Pedro was at 47% of capacity and 66% of the historical average at the start of the month, and it is now up to 50% and 70%.
More heavy precipitation is anticipated in California towards the end of the week.