Butte Fire Recovery Update: Debris Removal 85% Complete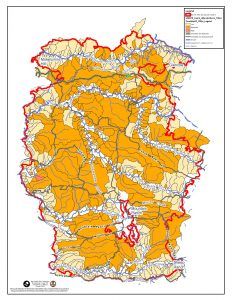 Butte Fire Preliminary 100-year Combined Hazard Map

View Photos
San Andreas, CA — Butte Fire burn debris clearing continues to make strides as the weather continues to cooperate this week.
As of Monday, debris removal was reported complete on 700, or 85 percent of the participating properties. Late last week, as previously reported here, Calaveras County government officials reported exceeding the 80 percent mark. The Bureau of Land Management (BLM) additionally announced last week that, beginning March 1, it would have a contractor disbursing additional erosion control measures in the form of wood shavings and rice straw over certain portions of the burn area, as reported here.
Back to the latest figures: currently, soil samples have been approved on 443 properties and erosion control completed on 413 of them. As conditions remain dry, 29 crews are continuing to make progress, scheduled to continue toiling away on what has become a customary seven-day work week. Officials are optimistic, especially if the weather holds, that related work will be completed by mid-March.