Wood Shavings Aid Butte Fire Erosion Control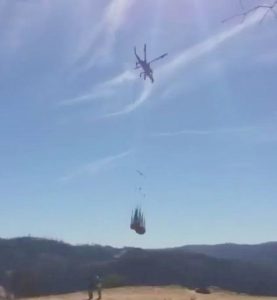 Helicopter spreading wood shreds

View Photos
Calaveras County, CA — A helicopter is flying over the Butte Fire burn scar again, this time to dump wood chips and straw over the loose ground.
Bureau of Land Management (BLM) reports it has contracted with a helicopter firm to assist in the ongoing rehabilitation efforts. The helicopter will drop nearly 35,000 cubic yards of wood shreds on 1,400 acres, mostly in the Jesus Maria Creek area of Calaveras County.  Crews hope to have the work completed by early April, weather permitting.
Additionally, in the Mokelumne and Calaveras River watersheds along dozer lines and roads, crews will use a blower to cover the ground with some wood straw to help with erosion control. On more than 100 acres, workers have used just their hands to spread rice straw and chip dead trees and brush.
The Butte Fire in Calaveras and Amador counties burned a total of 70,868 acres, including 58,810 acres private lands, and 12,058 acres of BLM land in Calaveras County. Click here, for BLM video of the helicopter in action.