Supervisors Call For Yosemite To Keep "Iconic Names"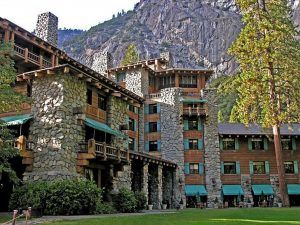 Ahwanhee Hotel...or Majestic Yosemite Hotel

View Photos
Yosemite, CA — While not directly pointing the finger at one particular side, the Tuolumne County Supervisors are hoping that a solution comes so that Yosemite's historic structures will retain their long-standing names.
The Supervisors voted 5-0 to send a letter to both Delaware North Company, and Yosemite National Park, urging compromise. As reported previously, many of the historic structures will soon be renamed when the new concessionaire Aramark takes over the operations from Delaware North Company. The changes are due to a legal dispute between the Delaware North and the National Park Service.
The Supervisors letter states, "This County encourages Delaware North and Yosemite to diligently pursue any and all actions to avoid the costly renaming of these places. There is a historical element which cannot be renamed. Although each structure or location included in the list may receive a temporary new name, the historical name should be returned to after the successful negotiations. These places contain historical and sentimental  value which cannot be replaced. This County is impacted by the name change in a material way as visitor brochures and material will need to be edited and reprinted."
District Four Supervisor John Gray, who represents the south county region, added, "Not to pick sides, or say who the enemy is here, I think we need to say that we don't approve of the name changes."
The letter concludes that the county would like the two sides to "work together and resolve differences" so that the "iconic names" can remain.