Man Flown To Modesto Following Sonora Accident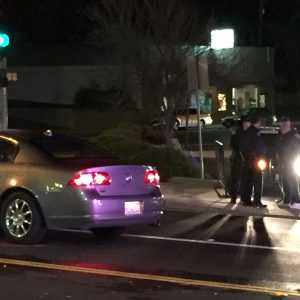 Vehicle vs. pedestrian accident in Sonora

View Photos
Sonora, CA — An intoxicated man suffered major injuries when he was hit by a vehicle on Restano Way.
The Sonora Police Department reports that 40-year-old Anthony Moore, identified as a transient, walked into the path of a vehicle driven by Roger Leontie. The driver had just turned onto Restano Way, from Mono Way. The Police Department reports that Moore was not in a marked crosswalk, and Leontie was unable to avoid him.
Moore was taken by ground ambulance to Sonora Regional Medical Center and he was later flown to a hospital in Modesto.
We first reported the initial details of the incident shortly after 7pm on Wednesday. The Police Department reports that two witnesses confirmed the above referenced series of events. An investigation into the crash is ongoing.