A Busy And Dangerous New Years On HWY 108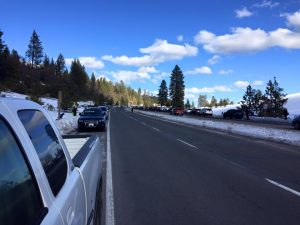 CHP HWY 108 Parking Citations

View Photos
Sonora, CA — The Sonora area highway patrol handled several traffic accidents, made a few arrests and handed out a lot of parking citations over the holiday and the weekend following New Year's Eve.
A total of 110 parking citations were handed out, mostly in the area of Lyons Dam and Little Sweden. According to Sonora area CHP Sgt. David Chesson this weekend seemed to be more of a problem with people coming up and sledding and parking in areas clearly marked as illegal and tow-away zones. Sgt. Chesson also stated the CHP was prepared with extra officers patrolling more frequently.
Chesson describes an incident this weekend in the Lyons Dam area, "A family who was up from Modesto and in the process of getting back in their vehicle, their eight-year-old child wandered out into the roadway directly in the path of a car that was traveling down the hill and was struck. The child received possibly a broken leg and was air lifted to UC Davis."
Over the New Year's holiday and the weekend of maximum enforcement there were three DUI arrests and eight minor injury accidents. The Christmas maximum enforcement period was less eventful but had many more speeding tickets issued, details were posted here.
As reported here, litter has become an issue as well. Sgt. Chesson says, "it is one of the things our officers do look for but unfortunately you have to see them actually litter and that would typically involve just watching one or two people throw the item on the ground and then walk away from it. As you can tell that would take quite a few man hours to do."Chesson notes, "If we do see someone throw something on the ground obviously we are going to take the appropriate enforcement action. I think the main thing that helps, I've seen a lot of people posting things in the media and on social media, and hopefully we can get some of the people to understand: the trash, even if they bury it in the snow, eventually it's going to show up when the snow melts." He concludes, "Hopefully they don't trash the forest because that's typically the reason they come up; to enjoy the scenery here."