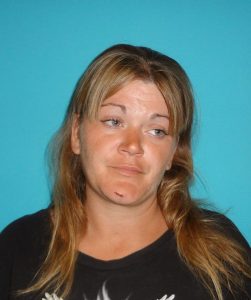 Desiree Boulanger

View Photos
Sonora, CA — A woman was arrested after breaking into a home last night in the 200 block of West Bradford Street in Sonora.
The Police Department reports that a man came home and found the door to his residence open. He soon noticed that several items were strewn about the home, and he spotted a woman in one of his closets, going through his belongings. The man had never seen the woman before, and she escaped through the home, and jumped over a fence. The man ran after the woman and called the police department. She was soon confronted by officers in the area of Save Mart on Stockton Road. She was identified as 31-year-old Desiree Boulanger, a transient. After questioning, she was booked into Tuolumne County Jail for felony burglary, and for an outstanding misdemeanor warrant for trespassing.
Boulanger was also in the news in November, as she was wanted for questioning about an alleged kidnapping attempt at the Sonora Walmart. Click here to read the earlier story.