SAF Doles Out Christmas Surprises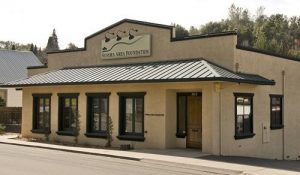 Sonora Area Foundation

View Photos
Sonora, CA — As promised, the Sonora Area Foundation (SAF) surprised three additional local organizations with bountiful gifts.
As reported last week, the Tuolumne County Sheriff's Community Service Unit, made up of mostly volunteers, got an unexpected $10,000 check from the foundation whose  leaders indicated more surprises to come, which happened on Thursday.  SAF awarded a total of $40,000 in proactive year-end grants with $10,000 going to the following: the Center for a Non Violent Community, the Wings Fund and the Carlo M. De Ferrari Archive. Foundation Executive Director Ed Wyllie states, "The common theme for all of them is community service. The things they do and give back to the community are so valuable that the board wanted to recognize them in this way."
In addition, the foundation hand out its Competitive Grant Awards, totaling nearly $78,000, which are given out every other month throughout the year to local projects and non-profits.
Here is SAF's list of recipients:
Yes Partnership – The YES Partnership, administered through the Amador Tuolumne Community Action Agency (ATCAA) was awarded $26,000 to create the Tuolumne County Youth AWARE Program, which stands for Advancing Wellness And Resiliency Education.  The program will bring Youth Mental Health First Aid (YMHFA) to the County, thereby supporting ATCAA's and the YES Partnership's ongoing efforts to prevent suicide and reduce mental health stigma in Tuolumne County.
 Spiritual Roads – Spiritual Roads, whose mission is "Helping people recover from the disease of addiction and find freedom from unhealthy behaviors" was awarded $25,000 in grant funding for a second year of this start-up program.  Executive Director Chris Lytle reports the program has helped over 500 people during 2015 and is seeking to double the number of people helped during 2016.
Mother Lode Community Center – This organization of community leaders, presently under the fiscal agent support of the Tuolumne County Commission on Aging, was awarded a grant of $17,900 to complete a community-wide needs assessment to determine the level of support, feasibility and sustainability for a multi-generational community center.  The assessment will be conducted by an independent contractor to insure an objective evaluation of needs as identified by the community.
 HealthLitNow – A grant of $5,000 was awarded by the Foundation to support a $4,000 challenge grant offered by the Economic Prosperity Council of Tuolumne County.  The combined grants will be used to retain a grants writer to submit multiple applications to the Office of State Health Planning and Development (OSHPD) for continuation of HealthLitNow's Exploratorium of Healthcare Careers program to Tuolumne County 7 – 9 grade students.