Brown To Speak At UN Climate Conference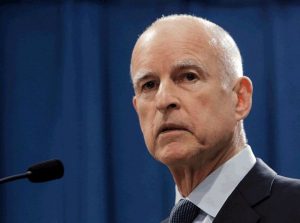 Jerry Brown

View Photos
Governor Jerry Brown has a packed schedule beginning late this week at the UN Convention on Climate Change in Paris.
The Governor is scheduled to speak 20 different times, addressing various topics, beginning on Friday and continuing through early next week. The event is being organized by several world leaders, including the French, U.S., German and Chinese governments.
California has some of the heaviest air quality standards in the world. Governor Arnold Scwarzenegger pushed for the creation of the country's first "cap-and-trade program" in 2006. Governor Brown took things a step further this year issuing an Executive Order for the state to reduce greenhouse gas emissions 40% below 1990 levels by the year 2030. Several Republican leaders in Sacramento have denounced the plan. Senate Republican Leader Bob Huff argued that it is unrealistic and would threaten the state's improving economy.
Brown counters, "Our message in Paris is simple: Talking climate change is good for the  environment and good for the future."
Heading into the conference, 57 jurisdictions from 19 countries have signed a pact to significantly reduce greenhouse gas emissions, well below 1990 levels, by 2030.