New Pictures Of Robbery Suspect Released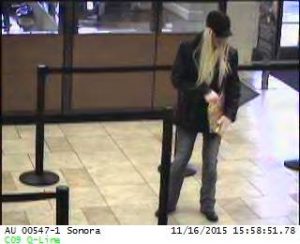 Wells Fargo Robbery Suspect

View Photos
Sonora, CA — The Sonora Police Department is hoping additional photos could lead to the arrest of a suspect in Monday afternoon's Wells Fargo bank heist.
Investigators have released the additional pictures taken from bank security footage. The pictures are in the upper left-hand image box and show several angles of the suspect entering and leaving the bank after the 4 p.m. robbery.
As reported on Monday,  a female went into the bank and gave a note to a bank teller and left with undisclosed amount of money. Police described the suspect as a white female in her mid to late 30's, long blonde hair, with a black baseball cap, wearing large oversize glasses, and carrying a large flower patterned handbag.
Responding to comments that the suspect looked like a man in disguise, Police Chief Mark Stinson acknowledged, "We're not ruling anything out at this point and time. Everything is open and on the table."
The department has received several calls and emails, but Chief Stinson says that unfortunately, those leads were unsuccessful.  Anyone with information regarding the robbery can contact the Sonora Police Department at 209-532-8141.