Sierra's First Significant Snowfall Stirs Enthusiasm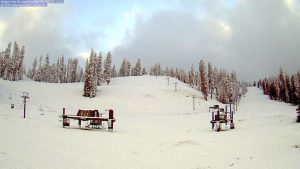 Badger Pass Webcam image, 3:58 p.m., Nov. 3, 2015

View Photos
Sonora, CA — Figures are in following the first significant snowfall of the season that flaked in over the weekend and fell harder through Monday.
Badger Pass Ski Area at Yosemite National Park officials state that fingers are crossed for lots of snow this season. As previously reported, last year's ski season was largely a bust due to an overly mild winter.
Spokesperson Ashley Mayer waxes enthusiastic over the storm that came through the park. While there is no snow in Yosemite Valley, she reports it is now visible along on the rim and at the higher elevations. "For instance, in and along Glacier Point Road and in the Badger Pass area, there are approximately nine inches of snow…Tioga Road is closed due to snow…we're very excited to have some precipitation…snow in the higher elevations — and the waterfalls are absolutely beautiful right now with this recent precipitation that we have received," she states.
To view a Badger Pass webcam image taken shortly before 4 p.m. Tuesday, click into the slideshow in the upper left image box. You may also access the webcam by clicking here. The ski area indicates that it hopes to open, weather permitting, on or near Dec. 11.
Dodge Ridge, which provided images along with its snowfall figures, states it measured six inches at the base area, over eight inches at its 8,200-foot summit, and if Mother Nature cooperates, would love to celebrates the resort's 65th anniversary with a late November opening. For recent pictures, click the upper left image box. You can view its webcam here.
Bear Valley Mountain reports a current base total of eight inches due to the recent snows. View the base webcam here .