Another Ski Resort Ending Season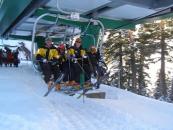 Bear Valley Ski Resort

View Photos
Bear Valley, CA — Easter Sunday will be the final day of the ski season at Bear Valley.
The ski resort opened its winter season in mid-December, and it lasted four months. The resort will wind down operations on Sunday with an Easter Egg hunt for the kids.
Dodge Ridge Ski Resort, which is not able to make its own snow, had a ski season that lasted just over a month. It ran from February 12th through March 16th.