Update: Funeral Services Announced For Calaveras Sheriff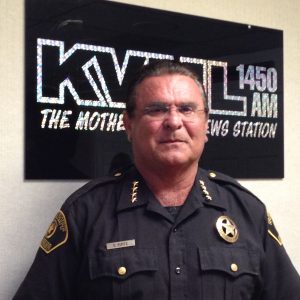 Calaveras Sheriff Gary Kuntz

View Photos
Update at 4:45pm: According to Deputy Coroner Keith Rosa, funeral arrangements for Sheriff Gary Kuntz have been made by his family.
The plans include a public viewing at San Andreas Memorial Chapel Wednesday and Thursday, Nov. 4 and 5. Following a private Mass on Friday, Nov. 6, a procession from downtown San Andreas at 10 a.m. will head to Ironstone Vineyards in Murphys, where a celebration of his life will begin at noon.
An honor guard of deputies now standing watch outside the chapel will remain with the sheriff until he is laid to rest.
Update at 3:55p.m.:  The Calaveras County Coroner's office confirms that Sheriff Gary Kuntz died of a heart attack Thursday at his home.  Deputy Coroner Keith Rosa reports an autopsy had just been completed when Clarke Broadcasting spoke with him. Kuntz was 63 years old. Details on his funeral service are expected shortly.
Update at  3:05pm: Three of Sheriff Gary Kuntz's family members, Garret Kuntz, Sabrina House and Johanna Vermeltfoort have made the following statement regarding his death Thursday night:
"The outpouring of condolences and prayers and offers for help is amazing. We all lost a great man with our dad Gary Kuntz. We appreciate it all so much and are more thankful then you all know. My dad loved the community and serving it was his greatest honor. He loved each person he met and I know he touched many lives. We all lost a great part of our community and family. We love you dad and don't know how we will live without your amazing sense of humor and just the amazing person you were. Our hearts are broken. Thank you all. "
Update at 8:35am: The Calaveras County Sheriff's Office has released an official statement on the passing of Sheriff Gary Kuntz.
It reads, "It is with sad hearts that the Calaveras County Sheriff's Office reports the untimely passing of Sheriff Gary Kuntz. On October 29th at approximately 9:21pm, Sheriff Kuntz passed from this life at his home. Sheriff's Office staff offer our sincere condolences to Sheriff Kuntz's family. Additional information is forthcoming."
Original story posted at 6:50am: Clarke Broadcasting has learned that Calaveras County Sheriff Gary Kuntz has died.
Details surrounding his death are not immediately clear, but when contacted at the Sheriff's Office this morning, a representative confirmed that Kuntz has passed away, and more information will be released later today in a news release. Kuntz moved to Calaveras County over 45 years ago and became a full-time Calaveras County Sheriff's Office deputy 30 years ago. He was elected Sheriff in 2010 following the retirement of outgoing Sheriff Dennis Downum.
Kuntz helped oversee the investigation into several high profile crimes throughout his time in office, including the murder of Leila Fowler and a recent triple homicide in Railroad Flat. He also oversaw the opening of the new Calaveras County Jail.
We will provide additional information as it comes into the news center.