CCWD Continues Push For New Melones Water Storage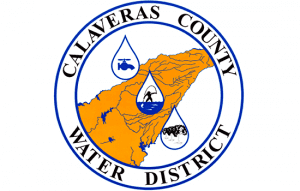 CCWD Logo

View Photos
San Andreas, CA – The Calaveras County Water District (CCWD) has solidified its efforts to obtain water storage at New Melones Reservoir.
In a 4-0-1 vote, with Director Jeff Davidson absent from the special Tuesday meeting, the CCWD's Board of Directors approved a resolution to get a Warren Act contract for the reservoir that would allow the district to store 100,000 acre feet of water.
CCWD General Manager Dave Eggerton says, "Access to storage at New Melones Reservoir is critically important to provide for the current and future needs of residents of Calaveras County and adjoining communities in having continued access to safe and reliable water supplies for basic human needs and fire protection, particularly in times of prolonged drought."
The act allows local water agencies to contract with federal agencies, such as the U.S. Bureau of Reclamation, which operates New Melones Reservoir, to store water if a reservoir has excess capacity. The district is hoping its request will be included in drought legislation currently being discussed in Congress. In an effort to make that happen, the district is looking for help from other regional partners that could benefit from the contract to form a coalition. As previously reported, Tuolumne County's Board of Supervisors have already submitted a letter of support along with the Tuolumne County Water Agency and the Twain Harte Community Services District.
Here is CCWD's list of potential benefits a Warren Act contract would bring to the entire region:
Provision of a more reliable source of water supply for the Cal Fire Air Attack Base in Columbia, which is currently served by an aging and vulnerable wooden flume and earthen canal system at high risk of catastrophic fire or other disaster.
Drought protection for Calaveras and Tuolumne residents whose private wells have, and will continue to, fail and more reliable water supplies for local agriculture currently dependent on fractured rock wells.
Drought protection for the residents of Copperopolis that are solely dependent on Stanislaus River water diverted from Lake Tulloch.
Coordinated reoperation of New Hogan Reservoir to enhance storage and provide drought protection for residents in the Valley Springs area.
Compliance with the Sustainable Groundwater Management Act of 2014, which includes sustainable management of the critically over drafted Eastern San Joaquin Groundwater Basin that underlies portions of Calaveras County.
Dedicated instream flows for water quality and fishery enhancements designed to meet anticipated state requirements while preserving CCWD's ability to partner with others downstream for the benefit of Calaveras County residents.
Potential water supply resiliency for areas within the basin, including a four-county area: Calaveras, Tuolumne, San Joaquin and Stanislaus.