High Scoring On The Gridiron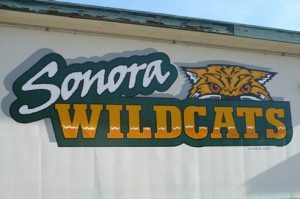 Sonora High School

View Photos
Two teams celebrated homecoming games in week eight of the High School Football Season.
Sonora High fans took over the streets of downtown Sonora Friday afternoon with a parade full of floats to get the party started and then dominated on the gridiron. The Wildcats had their best showing of the season against the Linden Lions. Sonora started the game marching down the field and into the end zone and never looked back.  Wildcats' Bradley Canepa and Wyatt Faughnen each had a touchdown.  Gino Bergamaschi made his return to the Wildcats memorable by hauling in a TD pass. Kane Rodgers had yet another interception and returned it for 6 points.  The score at half-time was 50 to 0.
The only score from the Wildcats in the second half came from Brett McCutchen as the game went to a running clock.  Sonora put together their best total game that they have had this season and did not give up a score until late in the 4th quarter. Plenty of dancing in the stands as Sonora wins their homecoming game, 57-7.
It was also Bret Harte's homecoming last night but the outcome was a little different with Amador running the pigskin well and doing the victory dance as the Bull Frogs were defeated 34 to 7.
Summerville was on the road and took down Argonaut 14 to 7. Calaveras had a bye week.