Sonora Homecoming Pageantry Parades Downtown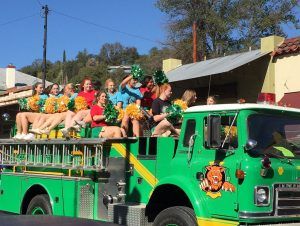 Sonora Homecoming Parade Pom-pom Spirit 2015
Sonora, CA – Merrily complementing the emerging fall foliage downtown were the swirling bright greens and golds of the Sonora High Wildcats marching in celebration of the school's annual Homecoming celebration tonight.
The spectacle led off from Washington Street shortly after 2:20 p.m. with the school's marching band The Golden Regiment followed by a mélange of colorful, movie-theme class floats and classic cars. Helping facilitate the pageantry, Caltrans maintained an hour-long official Highway 49 closure between Cowan and Green streets from 2 to 3 p.m., as City of Sonora and police department personnel provided additional support with traffic. Traffic was largely back to normal shortly thereafter.
Among the watchers decked out in green and gold was future Wildcat fourth grader Hannah Klein, already a cheerleader for the Jr. Wildcats, with plenty extended family members currently among the high school student body. Her grandmother shared that the family boasts at least four generations of Sonora High graduates, as they bustled off to visit Great-grandmother "Mickey" Nichols, a Sonora High Class of 1929 graduate, who still lives around the corner from the school and additionally turned 104 today. (Parade images and a video are clickable from the upper left image box.)
Parade participants and goers swarmed Courthouse Park afterwards, where the band struck up a celebratory concert. Among tonight's Homecoming attractions, the Wildcats football team taking on the Linden Lions on Dunlavey Field; crowning of this year's homecoming queen during the halftime festivities, after which the students' annual Homecoming dance follows. The junior varsity teams will play at 5:30 p.m.; the varsity game gets underway at 7:30. According to Principal Ben Howell, there will be no limit on tickets to tonight's games but after seating is all taken it will be standing room only.
Tonight's game will be broadcast on Star 92.7 FM, shortly after 7 p.m. and streamed on myMotherLode.com. Star 92.7 is the radio home of Wildcats football.
Also this evening, the Summerville Bears take on the Argonaut Mustangs in Jackson. That game can be heard on 93.5 KKBN, the home of Bears football, and also streamed on myMotherLode.com.
To follow either of the streams online, click here.