Day Care Workers Must Be Vaccinated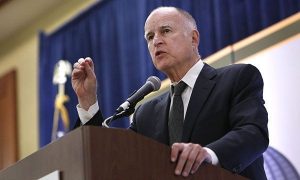 Governor Jerry Brown

View Photos
Sacramento, CA — Governor Jerry Brown has signed a bill that will require day care workers to be vaccinated against measles and whooping cough.
SB 792 applies to all home and day care center workers and volunteers. It will take effect next year. It passed in the California Assembly 60-16 and in the Senate by a vote of 34-3. Day care workers and volunteers will be able to opt out of the requirement if a doctor signs a note indicating a medical condition or weak immune system. The bill was introduced by Democratic Senator Tony Mendoza.
Earlier this year the Governor also signed legislation that mandates school children to be vaccinated, unless there is a medical reason not to do so. Previously, parents could request a personal belief exemption to decline vaccinations. Both bills were introduced following a measles outbreak that occurred late last year connected to Disneyland.