Cancer Center Capital Campaign: Almost Two-thirds There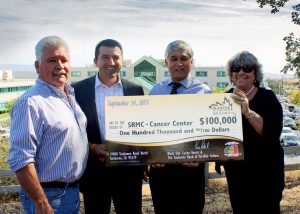 Tribal Chairman Kevin Day of the Tuolumne Band of Me-Wuk Indians; Sonora Regional Medical Center (SRMC) President Andrew Jahn; Black Oak Casino Resort General Manager Ron Patel; SRMC Director of Development and Public Relations Gail Witzlsteiner

View Photos
Sonora, CA — As construction gets underway on the Mother Lode's $36 million cancer center, its $3 million capital campaign received a welcome cash infusion.
According to Sonora Regional Medical Center (SRMC) administrators, the board of directors capital campaign for the cancer center received a recent, significant joint check totaling $100,000; $50,000 each from the Tuolumne Band of Me-Wuk Indians Tribal Council and Black Oak Casino Resort. Their support edges the campaign total to date up to $1.9 million and within $1.1 million of the board goal.
"We are incredibly grateful for the support that the Tribe is demonstrating with this very generous gift," CEO/President Andrew Jahn states. Tribal Council Chair Kevin Day and Black Oak Casino Resort General Manager Ron Patel visited the hospital to personally present the check to Jahn and Gail Witzlsteiner, executive director of the medical center's foundation.
As previously reported, the 64,000 square-foot center, which is expected to open in late 2016 or early 2017 at the intersection of Mono Way and Greenley Road, is being funded by $29 million from Adventist Health and $4 million in hospital reserve funds with the balance coming from the now one-year-old capital campaign. Interested donors to the capital campaign may contact the foundation office directly at 209 536-5029.