Calaveras County Amended To Federal Disaster Declaration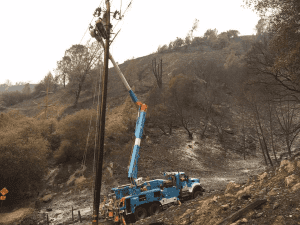 Restoring Power In Butte Fire region

View Photos
Sacramento, CA – Federal funds will be distributed to victims of the Butte Fire in Calaveras County.
California Governor's Office of Emergency Services (OES) reports that shortly after President Barack Obama issued a major disaster declaration for the Valley Fire in Lake County Tuesday, he amended the order to include the Butte Fire and Calaveras County. This declaration triggers the release of Federal funds to help victims of both blazes.  "This fire season has been a history making in its impact on our state," said California Governor's Office of Emergency Services Director Mark Ghilarducci. "These federal resources that the President's Disaster Declaration offers are going to be critical in the recovery process for our communities in Lake and Calaveras counties."
Anyone affected by the fires in those counties can now register their household for FEMA and State assistance by calling FEMA's toll-free number at 1-800-621-3362 (FEMA). For those who use 711 or Video Relay Service (VRS), call 1-800-621-3362.  Operators will be on the phone to walk you through the registration process. Impacted residents can also click here for details on the Calaveras Local Assistance Center.
The fires have been determined to be two of the most destructive fires in California history, according to  State OES officials.