New Fund Seeks Butte Fire Recovery Donations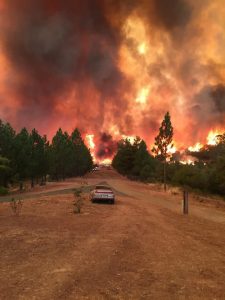 Butte Fire, from a firefighter's perspective, according to wife Michelle Gonzalez

View Photos
San Andreas, CA – For those who want to locally make a difference in Butte Fire recovery efforts, a local foundation has created a conduit for contributing dollars expressly for that purpose.
Brent Harrington, a former Calaveras County administrative officer who was also the county's office of emergency services director during the 1992 Old Gulch Fire, shares that the Calaveras Community Foundation yesterday set up a designated fund and is now actively seeking contributions for it.
Harrington, who serves as the foundation's treasurer, explains the idea came to the 12-member board after a few days of sharing emails during response efforts to the Butte Fire, now a national disaster and considered "historic" by fire officials, as it has burned parts of the county that have not seen fire in over a hundred years. "In fact, we have board members who have been evacuated, and some are still waiting to see if their house still exists, so we're all living and feeling the experience, if you will," he says wryly.
Priming Post-recovery Efforts
The Calaveras Community Foundation Disaster Relief Fund will allow whatever funds people donate to it to be used for what the board is calling "the follow up to the fire," according to Harrington. "Our experience is that, for all that goes on during the fire event, the real long-term impact is what happens afterwards," he explains. He adds that, while the board is still determining exactly where it will direct funds, the focus will be on relief and other service groups that are involved in post-recovery efforts.
Through its auspices, the foundation, now in its 15th year, has thus far provided over a million dollars in community assistance. "By law, we can't give to individuals, but we can give to organizations," Harrington states. Some of these, such as local food banks and animal services agencies and other organizations with which the foundation has existing relationships, are actively responding to Butte Fire related emergencies and being financially tapped out. Moving quickly, the board is now working on ideas and will be formulating initial move forward plans at its next meeting in two weeks.
As the foundation is a nonprofit 501 ( c ) 3, all donations are tax-deductible. Those interested in helping seed local Butte Fire recovery efforts may mail checks to the foundation at PO Box 1436, Angels Camp 95222. Please indicate "DRF" in the memo line of your checks. You can also make donations online by using the PayPal button on the foundation's website (click here for link) and indicate "DRF" in the PayPal comment box. For more information, call the foundation office at 209 736-1845.
Clarke Broadcasting is continuing to provide the latest available information on ways to help as well to tap needed resources during this community crisis. For more details, click here.