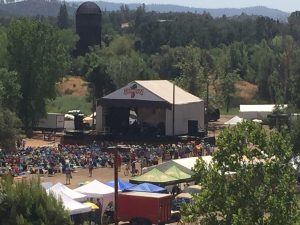 Strawberry Music Fest Stage

View Photos
There are several events held on Labor Day weekend, the biggest is the Strawberry music festival. After a 2 year absence, prompted by the 2013 Rim Fire, the Strawberry Music Festival returns to Tuolumne County this Labor Day Weekend. The KVML's "Newsmaker of the Day" interview with Jodi Barnett, Operations Manager and Spokesperson is here. The family-friendly atmosphere features an eclectic mix of folk, bluegrass, Americana, and blues. Bands include; The Wood Brothers, Big Bad Vooodoo Daddy, Dave & Phil Alvin W/the Guilty Ones, Brothers Comatose, Dead Winter Carpenters, The Little Fuller Band, The California Honeydrops, and more.
The 20th Annual Logging Jamboree will be held in White Pines this Saturday. KVML "Newsmaker of the Day" interview with John Hofstetter, Executive Director for the Friends of the Sierra Nevada Logging Museum, is here. Nearby is the 43rd Annual Cedar Center Arts & Crafts Festival is at Cedar Center in Arnold.
Celebrate California Statehood Day in Columbia State Historic Park and Contribute to the atmosphere at Columbia State Historic Park by taking the Volunteer/Docent Class.
Get up for the Arnold Lions Labor Day Pancake Breakfast on Saturday and Sunday.
Up in Twain Harte on Saturday is a Church Rummage Sale
Railtown 1897 is offering excursion train rides & more over Labor Day Weekend.