Campaign Records Shed Light On Political Ambitions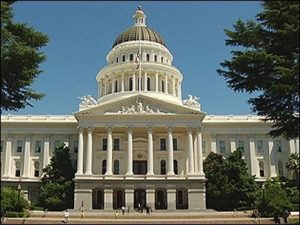 California Statehouse

View Photos
Sacramento, CA — State records show which candidates currently have an eye on Mother Lode Senate, Assembly and Board of Equalization seats.
Several candidates have already filed a "Statement of Intention" to run for elected office in either 2016 or 2018. Candidates are allowed to file for multiple races, and it is one of the early steps toward becoming a candidate, and being able to start raising campaign money.
Republican Frank Bigelow has filed a Statement of Intention to defend his District Five Assembly seat in 2016. Other potential candidates that have done the same include Robert Enyeart, a Democrat, and Mark Belden, who declines to state a party.
Mother Lode District 8 Senator Tom Berryhill will be termed-out in 2018. While much can change because it's still three years away, current Republican Assembly leader Kristin Olsen has filed a Statement of Intent to run for Berryhill's seat. At this point, she is the only candidate to have done so. Meanwhile, Berryhill has filed papers indicating that he is considering a run for Board of Equalization in 2018. The Secretary of State's office notes that Berryhill had also filed a statement for the 2018 Lt. Governor's race. Congressman Jeff Denham, who represented the Mother Lode prior to redistricting, has also filed a Statement of Intent for the 2018 Lt. Governor's race.  Other notable names on the Lt. Governor intent list include Republican Congressman Kevin McCarthy, Democratic State Senate Leader Kevin de Leon, and Democratic state Senator Mark Leno.
When it comes to the 2018 Governor's race, only two candidates have filed intent. They are Democrat Gavin Newsom and Republican Allen Ishida.
The information referenced above was available through the California Secretary of State's Office.