TUD Provides Tap Restrictions Reminder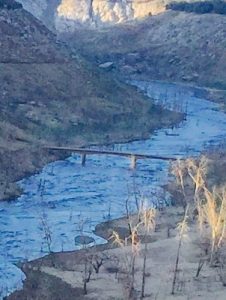 New Melones low water levels-8-19-15

View Photos
Sonora, CA —  Now that Tuolumne Utilities District (TUD) customers are getting a bit of a break, due to their water conservation efforts to date, district officials want to refresh customers on the current restrictions still in place.
As previously reported, last week, the board voted unanimously to revise the Phase III mandatory water conservation measures from 30% to 25%. TUD attributes the reduction to customers achieving more than 41% water savings in June and July of this year compared to 2013.
TUD spokesperson Lisa Westbrook states, "We cannot stress enough how much this has helped our water supply, overall. Originally, when these conservation measures were adopted…was in April, when the circumstances were completely different, and we weren't sure if we were going to actually have enough water supply."
Those circumstances included the state's imposed 25% conservation targets on water suppliers as well as TUD's below list below of conditions and its forecast at that time:
PG&E predicted that Pinecrest Lake, the main water source for the District, would not fill and might only reach a capacity of 75%.
Lyons Reservoir had been predicted not to fill and spill this year, due to the lack of precipitation and snowpack.
The extremely dry conditions and low reservoir levels warranted imposing water conservation targets in excess of state requirements.
Westbrook stresses, "We still are asking customers to comply with the outdoor watering schedules that are still in effect." View the current restrictions and schedule here.
Additionally, the district must still meet the state-required target of a 24% reduction in water conservation, overall, between June and February 2016. Westbrook notes, "We feel very confident we'll reach that goal, due to the extreme conservation measures our customers have been taking."