Three Killed In Highway 108/120 Crash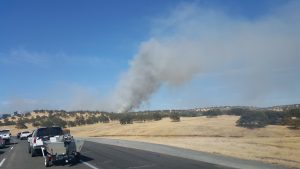 Fire Off Highway 108

View Photos
Tuolumne County, CA — The CHP has released some initial details about the tragic two vehicle accident that ignited a 110 acre vegetation fire.
It happened Saturday at 4:05pm on Highway 108/120 just west of Tulloch Dam Road. The CHP reports that a driver in a 1997 Honda CRV collided with a 2007 Toyota RAV 4. The Toyota swerved to the right shoulder and became engulfed in flames, and the Honda came to a rest in the center median. The fire that originated from the Toyota proceeded to burn 110 acres to the south of Highway 108/120. The eastbound lanes of Highway 108/120 were closed for an extended period. The CHP reports that the driver of the Honda, and the driver and the lone passenger in the Toyota, all died in the crash. The CHP has not released the names, ages, or where they resided, as family members are still being notified.
Firefighters still remain on scene this morning mopping up the 110 acre fire. Traffic is moving through Highway 108/120 freely.
Click here to read a story from yesterday detailing the fire.
Update: The victims were identified on August 20th here.