Accident Makes Case For Bicycle Helmets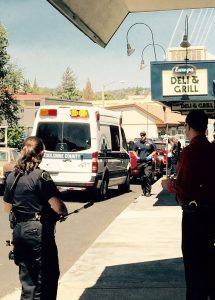 Sonora Police begin to investigate scene of injury incident in downtown Sonora, August 13, 2015

View Photos
Sonora, CA — Police say a bicyclist who left downtown Sonora in an ambulance after hitting an SUV Thursday was likely spared from severe injury by her bike helmet.
As previously reported, emergency personnel responded in the noon hour to the 200 block of South Washington Street. According to the Sonora Police Department report, the driver of the SUV, June St. Pierre, 76, of Sonora, had been heading north on the street. While she was parking along the east side of the road, Susan Gambaro, 60, also of Sonora, rode her bicycle into the back of the vehicle. The force of the impact sent Gambaro onto the pavement, where she suffered minor abrasions.
Gambaro was subsequently transported to Sonora Regional Medical Center by ambulance as a precaution. According to the police report that she was wearing a bicycle helmet at the time of the collision prevented her from receiving a severe head injury.