Injury In Downtown Sonora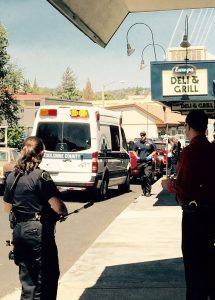 Sonora Police begin to investigate scene of injury incident in downtown Sonora, August 13, 2015

View Photos
Sonora, CA — Noon hour motorists and passersby through downtown Sonora saw fire trucks, an ambulance with flashing lights and police vehicles gathered in the 200 block of South Washington Street, reportedly due to an accident involving a vehicle and a bicyclist.
The units responded to an area in front of Hong Kong restaurant, located at 267 South Washington St. When Clarke Broadcasting arrived on the scene, a patient had already been loaded into the ambulance. Inside the restaurant, staff members could not provide any details, as they say they did not see or hear anything relating to the incident.
Police officials who were preparing to take measurements on scene declined to provide any further information, including the identities of the involved parties,  deferring further comment on the investigation to Sonora Police Chief Mark Stinson. Clarke Broadcasting has a call in to the chief and will update this report as information becomes available.