Sonora Police Host National Night Out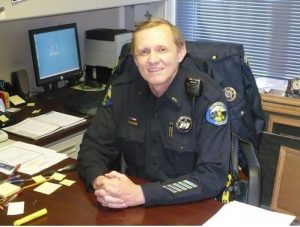 Sonora Police Chief Mark Stinson

View Photos
Sonora, CA — Concerned about an increase in criminal activity, the city's police chief and staff invite the public to a special outreach event for area residents Tuesday.
According to Sonora Police Chief Mark Stinson, tomorrow's program, which will be held from 6 to 7:30 p.m. at Sonora Opera Hall, is being held in conjunction with National Night Out (NNO), sponsored by law enforcement agencies across the country to connect with the public and provide them with an opportunity to air any questions or concerns about their local neighborhoods.
"It's been a couple of years since we've done one of these because of staffing…and budget issues," says Chief Stinson. "But we figured that this year, more than ever we need to get the public back involved and helping us fight crime here in our community." As previously reported, the chief recently has noted a "disturbing" local uptrend in violent crimes.
Nationally, the NNO event will involve over 15,000 communities from all 50 states. Its goals are to increase crime and drug prevention awareness; increase the support of local anti-crime efforts. strengthen community partnerships with local law enforcement; and demonstrate to criminals that local neighborhoods and communities are organized and fighting back against crime and drugs.
Following a presentation, which will include this year's featured speaker Tuolumne County District Attorney Laura Krieg on AB 109, realignment and Proposition 47, folks will be able to weigh in during a question-and-answer session and hobnob with area law enforcement. Chief Stinson adds that, as part of a joint effort this year, officials from the Tuolumne County Sheriff's Office and California Highway Patrol will also be available to discuss questions or concerns within their jurisdictions and that the city's Neighborhood Watch groups are also being encouraged to provide updates on their activities.
Following the Q-and-A, during an ice cream social, department personnel will roll up their sleeves, break out the ice cream scoops and continue to serve residents, albeit, in a slightly stickier way.