Acreage Drops In Big Creek Fire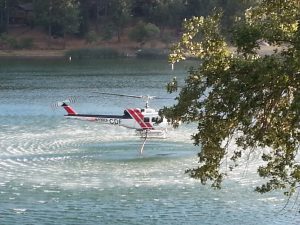 Cal Fire tanker helicopter sucking water from Pine Mountain Lake

View Photos
Groveland, CA — Cal Fire reports the Big Creek Fire acreage has been downsized to 204 from earlier estimates of 265 acres.
The containment remains at five percent. Cal Fire spokesperson Nancy Longmore says the decrease is the result of better mapping. She adds, "The difficulties increase, as the day wears on we've got increased temperatures and wind, which are causing frequent spot fires across the line. With the drought- stressed forest — then the thousands of bug-killed trees — that's making the effort difficult for firefighters."
The cause of the fire is still under investigation. Resources on scene include 515 firefighters,  43 fire engines,  five bulldozers,  seven water tenders and ten fire crews on the ground. In the skies, the aircraft include one Air-Attack, two air tankers, and one helicopter.
As first reported by Clarke Broadcasting, the flames broke out around 4:30 p.m. Wednesday, off Highway 120 in the Groveland area, forcing voluntary evacuations of the Hell's Hollow area.  The evacuation notices remain in effect for 25 homes along Hell's Hollow Drive, Bucktail Drive, Elmore Drive and Sprague Road East. Those roads, situated off Highway 120, remain closed. Highway 120 is open. The evacuation center remains open at the Groveland Community Hall.
Agencies and fire units assisting in battling the blaze include: The US Forest Service; Tuolumne County Fire Department; Stanislaus Consolidated,Copperopolis Fire, Central Fire, San Andreas Fire, Georgetown, Diamond Springs, Santa Barbara County, Groveland Community Services District, Lathrop – Manteca, Los Angeles County, Orange County, Office of Emergency Services.
A special thanks to our community news partner Virginia Richmond for sending in the photo.