Forward Spread Stopped On Big Creek Fire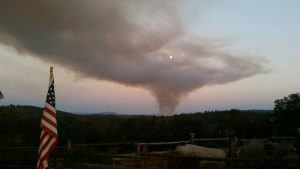 Big Creek Fire

View Photos
Groveland, CA — CAL Fire spokesperson Lisa Williams reports that crews made good progress overnight battling the Big Creek Fire.
Williams says that firefighters have "stopped the forward rate of spread" of the blaze situated outside of Groveland. That said, firefighters are still working to build a strong perimeter line around the fire. She says CAL Fire's official size estimate remains 150 acres and five percent containment. The triple digit temperatures projected for today could pose challenges for the firefighters. Air and ground resources will continue to attack the fire. The previously mentioned voluntary evacuation notices will remain in effect for homes along Hell's Hollow Drive, Bucktail Drive, Elmore Drive and Sprague Road East. Those roads, situated off Highway 120, remain closed.  You should avoid the area. Highway 120 is open.
A special thanks to our community news partners Josh Ruhl, Connie Cassinetto, Willow Polson, Craig Polson, Caroline Nelson, Hannah Deden, Michael Bartlett, Doug Fleming, Ian Morcott, Bruce Lodge, David Hartwig, Judy Krause-Hankinson, Shari Pingree, William Cook, Nathan Grinsell, Dick Davis, Sally Van Bolt and Tamara Hansen for sending in the photos. Pictures can be e-mailed to news@clarkebroadcasting.com.
Click here to read an earlier story detailing the fire activity.