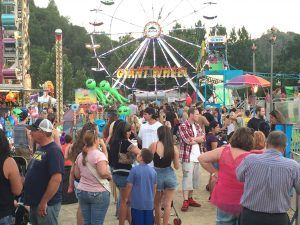 Mother Lode Fair
Sonora, CA — The Mother Lode Fair once again delivered, bringing in more money from auctions than last year. Attendance is still being calculated. The Mother Lode Fair delivered carnival rides and food, music, roaring cars, trucks and more, and raised money for local 4-H, FFA and the Pioneers clubs.
The livestock auction brought in an impressive $285,655. The small animal auction of turkeys, rabbits, chickens and goats earned an additional $23,335, for a total of $308,990. Last year, the amount paid for livestock was over $252,000, and over $18,500 for small animals.
Fair officials don't have the final numbers on attendance of the Mother Lode Fair yet, but the cooler than triple-digit heat was notable.
A video of the beginning of the 2015 Demolition Derby by Mark Truppner can be viewed here.
Even more photos of the event were also posted in this weekend's news story here.