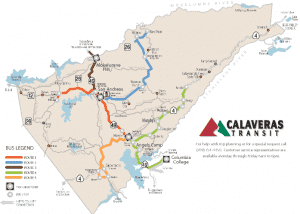 Calaveras Transit Map, April-2015

View Photos
Calaveras County, CA — Calaveras County residents will get a ticket to ride that will help the environment at the same time.
Through money raised by California's cap-and-trade auctions, Caltrans has awarded grants totaling nearly $22-million to 86 projects under the Greenhouse Gas Reduction Fund. That fund fuels local projects that improve public transportation and reduce greenhouse gases in an effort to meet the state's goals, a 40 percent emissions reduction, by 2030. One of those is the Calaveras Transit Green Tickets project, which received $14,549. What that means for residents is a free voucher to hop on a public bus instead of getting behind the wheel of their own car, which will in turn, help reduce greenhouse gases. California Air Resources Board Chairman Mary D. Nichols says, "These projects provide more alternative transit choices statewide and are further proof that the Golden State is putting its money where its mouth is when it comes to building a sustainable, low carbon economy that will provide benefits for all Californians."
Nearly 2/3 of the projects targeted by the 2014 -15 allocations for the Low Carbon Transit Operations Program will benefit disadvantaged communities, according to Caltrans officials.