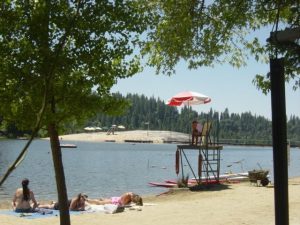 Twain Harte Lake

View Photos
Twain Harte, CA — Ending months of uncertainty, Twain Harte Lake is officially back open.
The Association that owns and operates the private lake reports that a ribbon cutting was held yesterday at the Gate House, and the lake is open this weekend. There had been many questions about the lake's future this year due to damage that occurred late last season, and a leak that had to be repaired. In addition, due to the drought, the association was told by T.U.D. that supplemental water would not be available to fill the lake, and the association would need to rely on its small ditch allotment. May precipitation helped fill the lake, and it will now be a definite boost to Twain Harte's economy this summer.
Click here to read an earlier story that detailed the economic impact that the lake has on the community's economy.
The lake is expected to remain open through Labor Day.