Plates To Fund Domestic Violence Programs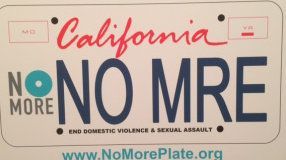 California's No Mre Plate

View Photos
Sacramento, CA – A new state licenses plate proclaiming "No More" to domestic violence and sexual assault is the first of its kind in the nation.
Citing national statistic that 12.7 million people are physically abused, raped or stalked by their partners in one year, Assemblymember Jimmy Gomez (D-Los Angeles) unveiled the new program offering the plate purchase to Californians last week. AB2321, authored by Gomez, passed the state legislature and now some 7,500 plates need to sell in order to start production.  "Domestic violence and sexual assault affects more than just its victims, it impacts everyone," says Gomez. "In California we don't wait, we act. We wanted to allow people to play an active role in this cause by doing something small but significant to say NO MORE to domestic violence and sexual assault. By purchasing the California Says NO MORE license plate, residents will help send real dollars to real programs that make a difference in the fight to end domestic violence and sexual assault."
The goal is to use the $50 initial cost for the plate and $40 annual renewal fee to help fund domestic violence and sexual assault programs throughout California. Gomez adds the first 7,500 will total more than $375,000 and start the program on sound financial footing . For more information on the plates click here.