Twain Harte Lake Half Full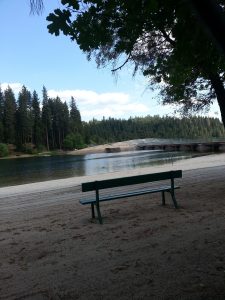 Twain Harte Lake 5-19-2015

View Photos
Twain Harte, CA — Twain Harte Lake's water woes are looking up.
Association General Manager Dennis Wyckoff tells myMotherlode.com, "Right now with the rain we're getting and the creek and the small amount we get from T.U.D. [Tuolumne Utilities District], we're up over half full." Wyckoff adds that, if predicted wet weather hits the area on Thursday or Friday, that could put them over the top, "If we could just get two good rain storms, as small a lake as this is, we would be full."
Wyckoff reports with the state's approval of the repairs done to fix a cracked rock by the dam, which caused a leak that forced the lake's draining, the association had been shooting for a Memorial Day Weekend opening. Although it will miss that mark, Wyckoff says, "We're coming close to setting the exact date…by Tuesday of next week we should have a letter put together and be able to release it to our membership and the general public…on what our status is and when it [the lake] will open."
The lake association board is scheduled to meet next Tuesday to get a water update and draft the membership letter, according to Wyckoff.  He adds he has already met with some lake staff, including lifeguards and gatehouse workers, in anticipation of a first or second week of June opening.