Mother Lode Roundup Street Closures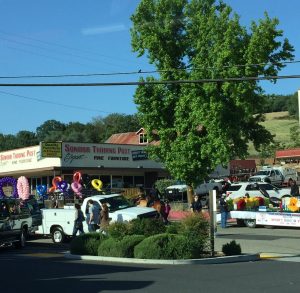 Pre-parade Staging on Washington Street-5-9-15

View Photos
Sonora, CA — Chairs are lined up and we are just hours away from the Mother Lode Roundup Parade.
Thousands will hit the streets of downtown Sonora this morning to view the over 170 entries of bands, floats, cars and horses moving down Washington Street.  Click here to view the rundown. Staging for the parade will be near the Post Office on South Washington Street. The parade kicks off at 10 a.m. and goes down Washington Street, ending at the historic Red Church.
New this year, Tuolumne County Transit will run a free trolley service to downtown Sonora. It will begin at 8am and pickup sites include Columbia Elementary, Jamestown Elementary and the Junction Shopping Center.
There will be several street closures due to the parade. The information below was provided by the Sonora Police Department:
South Washington Street at State Highway 108 will be closed at 8:00 am.
North and South Washington Street will be closed at 9:30 am.
Stockton Road at Green Street will be closed at 9:30 am.
Snell Street at Bonanza Street will be closed at 9:30 am.
School Street between Washington Street and Snell Street will be closed at 9:00 am.
"No parking" will be allowed on Washington Street from Elkin Street to Toby Street, between 5 am and the end of the parade. "No parking" will be allowed on Stockton Road between Washington Street and 70 Stockton Road, between 5 am and the end of the parade. Special signs have been posted for these "No parking" zones. Unfortunately, if you park in these areas your vehicle will be towed!
There will be "No Parking" allowed on the side streets between Washington Street and Green Street and between Washington Street and Stewart Street. This will include Elkin Street, Dodge Street, Jackson Street, Yaney Street, Bradford Street, Theall Street, Linoberg Street, Church Street, June Street, Gold Street, Williams Street, and Lytton Street. These restrictions will start at 5:00 am and will conclude at the end of the parade. Vehicles parked in these areas will be towed.
If you are planning on attending the parade, the Sonora Police Department encourages you to arrive before 9:00 am. This will allow you time to find parking and get settled before the majority of the street closures occur. Once the street closures occur, vehicles will not be allowed into the parade route area, even if you are a participant in the parade and running late.
Following the parade, the parade route will remain closed for approx. 10-15 minutes to allow spectators to leave the area. Motorists can expect heavy vehicle and pedestrian traffic at the conclusion of the parade resulting in delays.
For more details on Mother Lode Roundup, click here.