The 58th Annual Mother Lode Round-Up Queen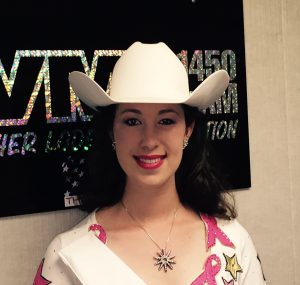 Paige Ryan

View Photos
It is Mother Lode Round-Up week and last Sunday night, Paige Ryan was crowned the 2015 Mother Lode Round-Up Queen.
Ryan was Wednesday's KVML "Newsmaker of the Day".
Ryan also won the Horsemanship Award and the Photogenic Award.
"I was really proud of the Horsemanship Award as it is my favorite category," said Ryan. "I spend six days a week, two times a day riding my Mighty Mouse (the name of her horse)."
As a young girl, Ryan used to watch the Mother Lode Roundup Parade with her family.
"I may cry when I see my parents watching me in the Parade this year," Ryan said.
Twenty-four year old Ryan has a Bachelors of Science Degree in Agricultural Communications and Journalism from Kansas State University. She would like to pursue a Masters Degree from Stanford University.
The first runner-up was Mary Mackenzie Suess.
Suess also won Peoples Choice Award, Congeniality Award, High Ticket Sales Award and Appearance Award.
The second runner up was Evon Meckler.
Meckler also won the Speech Award, Written Test Award and Interview Award.
Other Queen candidates this year included Trisha Berg and Ivana Kursar.
The next big Roundup event is "Band Review" 6 PM tonight at Sonora High School, followed by the Calcutta this Thursday 6 PM at the Sheriff's Posse Grounds.
A rundown of events can be found in the myMotherLode.com Roundup section.
The "Newsmaker of the Day" is heard every weekday morning on AM 1450 KVML at 6:45, 7:45 and 8:45 AM.