Traffic May Stink In Sonora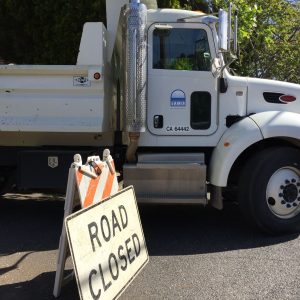 TUD crews at work

View Photos
Sonora, CA – Tuolumne Utilities District (TUD) reports flaggers will be directing traffic along several streets throughout the week.
Motorists could face delays, as maintenance crews will be conducting the annual sanitary sewer-flushing program.  TUD spokesperson Lisa Westbrook says, "It's a common practice. It's done to improve the overall pipe flow and since we know that the downtown area is going to be greatly impacted by the upcoming Mother Lode rodeo, we want to make sure that there is no problem with our collection system."
The maintenance will be completed just in time for the Mother Lode Round-Up, which brings thousands to the area for the parade and rodeo on Mother's Day weekend each year.  (Click here for details on the event.)
Here is TUD's street flushing schedule that runs from 11 p.m. to 7:30 a.m., Sunday, May 3 to Friday, May 8:
Sunday, 5/3 – Washington Street from Yosemite Title to the old Tuolumne General Hospital location.
Monday, 5/4 – Washington Street from Yosemite Title up to the St. James Anglican Church, also known as The Red Church.
Tuesday, 5/5 – Stewart Street, Green Street, Baseball field at Sonora High School, Shaws Flat Road by the High School.
Wednesday, 5/6 – The Junction Shopping Center area, East Sonora – Mono Way and Stockton Road by Save Mart.
Thursday, 5/7 – Stewart Street from Church Street up to Restano Way.