Strawberry Music Festival Coming To Tuolumne?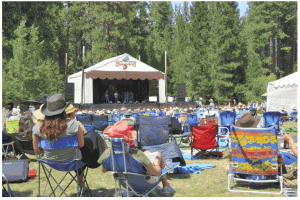 Strawberry Music Festival Event Photo

View Photos
Tuolumne, CA — The popular Strawberry Music Festival may return to Tuolumne County this coming fall.
The county has received an application for a Conditional Use Permit to hold the event at the Tuolumne Band of Me-Wuk Indians Westside property, on the edge of Tuolumne City, September 3-7. For many years, the popular festival was staged at Camp Mather, but it was displaced as a result of the 2013 Rim Fire. It has since been held at the Nevada County Fairgrounds in Grass Valley, which is where the spring Strawberry Music Festival will be held next month.
Community Resources Agency Director Bev Shane says the Tuolumne County Board of Supervisors will vote on issuing the Conditional Use Permit related to holding the festival in Tuolumne, likely at its second meeting in June. The festival would be set up over 100 acres, and could host up to 5,600 guests.
Update: "Let the Music Play"