CCWD Customers Get A Rate Reprieve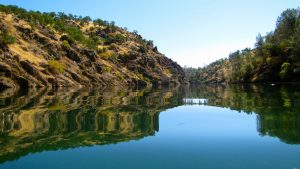 Lake Tulloch

View Photos
San Andreas, CA — A nearly $5 rate jump each for sewer and water customer a month scheduled to start this September has been postponed by Calaveras County Water District (CCWD).
Monthly rate hikes of $56.78 to $61.89 for water and $86.16 to $90 for sewer figured into a three-tier Capital Repair and Renovation Infrastructure Program.  The first two rate increases were implemented in 2013-14.  CCWD Spokesperson Joel Metzger says staff gave the board several courses of action and it chose "Option B" (View CCWD's Options as reported by staff here CCWD Capital R&R Funding Options ), which defers the rate hike for affected customers to September 1, 2016.  Metzger explains, "Between now and then, the Board wants staff to bring back the list of improvement projects and the financial situations on a regular basis so they can determine whether that rate increase may even be necessary in 2016."
Metzger says the staff was able to "retool" and cut costs on some of the projects slated for repairs, while removing others from the list, to readdress in three years.  Here is the CCWD's list of projects removed from the list:
Techite water transmission line near Big Trees
Construction phase of main water transmission line in Jenny Lind
Arnold wastewater clarifier
La Contenta wastewater clarifier
Wastewater lift stations in Copperopolis
Wastewater lift station in Arnold
Wastewater lift station in Avery
Wastewater lift station near Forest Meadows
Metzger says the District hopes to secure funding to begin many of the above projects within a five-to-seven-year period.
The board also took action on a resolution giving its support to any efforts to keep Lake Tulloch full and its intakes submerged, so the district can continue serving its nearly 2,400 customers in Copperopolis.  Metzger says the board's unanimously-approved resolution will be sent to State and Federal lawmakers, agencies and others in the coming week.