Snowmobiler's Opinions Wanted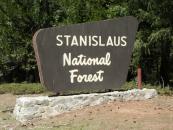 Stanislaus National Forest Sign

View Photos
Sonora, CA — The Forest Service wants the public to give feedback on its draft for possible snowmobile trails.
The Stanislaus National Forest has asked the public to weigh in on its proposed action for its Over-Snow Vehicle (OSV) Use Designation project prior to the Notice of Intent, due to come out in late March or early April.  Here are the Forest Service's main questions to the public:
Have we missed any major areas or routes that historically have been used by snowmobiles?  If so, where and how are they being used?
Is the DRAFT Proposed Action clearly stated and mapped?  If not, how can it be improved?
In an effort to get plenty of public feedback, the Forest will host these open houses:
March 11 from 1-5 p.m. at the Supervisors Office in Sonora
March 13 from 1-5 p.m. at the Calaveras Ranger District office in Hathaway Pines
March 17 from 5-7 p.m. at the Pinecrest Community Center in Pinecrest
March 19 from 5-8 p.m. at the Bear Valley Library, conference room in Bear Valley.
Forest Supervisor of the Stanislaus National Forest Jeanne Higgins says, "We built the draft proposal using current information and best available science.  I encourage the public, users of the Forest OSV routes to assist us in identifying historical routes and uses."
Another reason for undertaking this analysis process, according to forest officials, is to meet the required terms of a settlement agreement between the Forest Service and Snowlands Network, Winter Wildlands Alliance and the Center for Biological Diversity.
As previously reported, last year a similar settlement was reached with the Twain Harte based Central Sierra Environmental Resource Council (CSERC), as well as the Wilderness Society, and the Public Employees for Environmental Protection in 2010 regarding motorized off-highway vehicle trails.